"Love Boat" Cruise Theme Dance
Friday July 25
Doubletree Hotel by Hilton
I-225 & East Iliff
Remember "The Love Boat" series from 1977-87 on ABC-TV? Well, dress in your swell summer attire and join Tony David & Wildefire for another or our popular Friday night theme dances. $15 includes first wine, mixed drink or bottled beer. Costume prizes. New---Male Cruise Dance Hosts!!

Enjoy Wildefire's best dance songs plus cruise, boat & beach songs by Jimmy Buffet, line dances and a conga plus Tony sings Don Ho. (once). Pam has a new short dress and higher heels!! Host John Edwards impersonates character Captain Stubing. Friday at the Doubletree by Hilton Hotel, I-225 & East Iliff. Doors open at 7. Line dancing & cowboy cha-chas 7:30. Dance music at 8. Lots of lighted parking just outside back ballroom entry.

Jersey Boys & The 60's Theme Dance
Doubletree Hotel Aurora
Friday July 11 at 8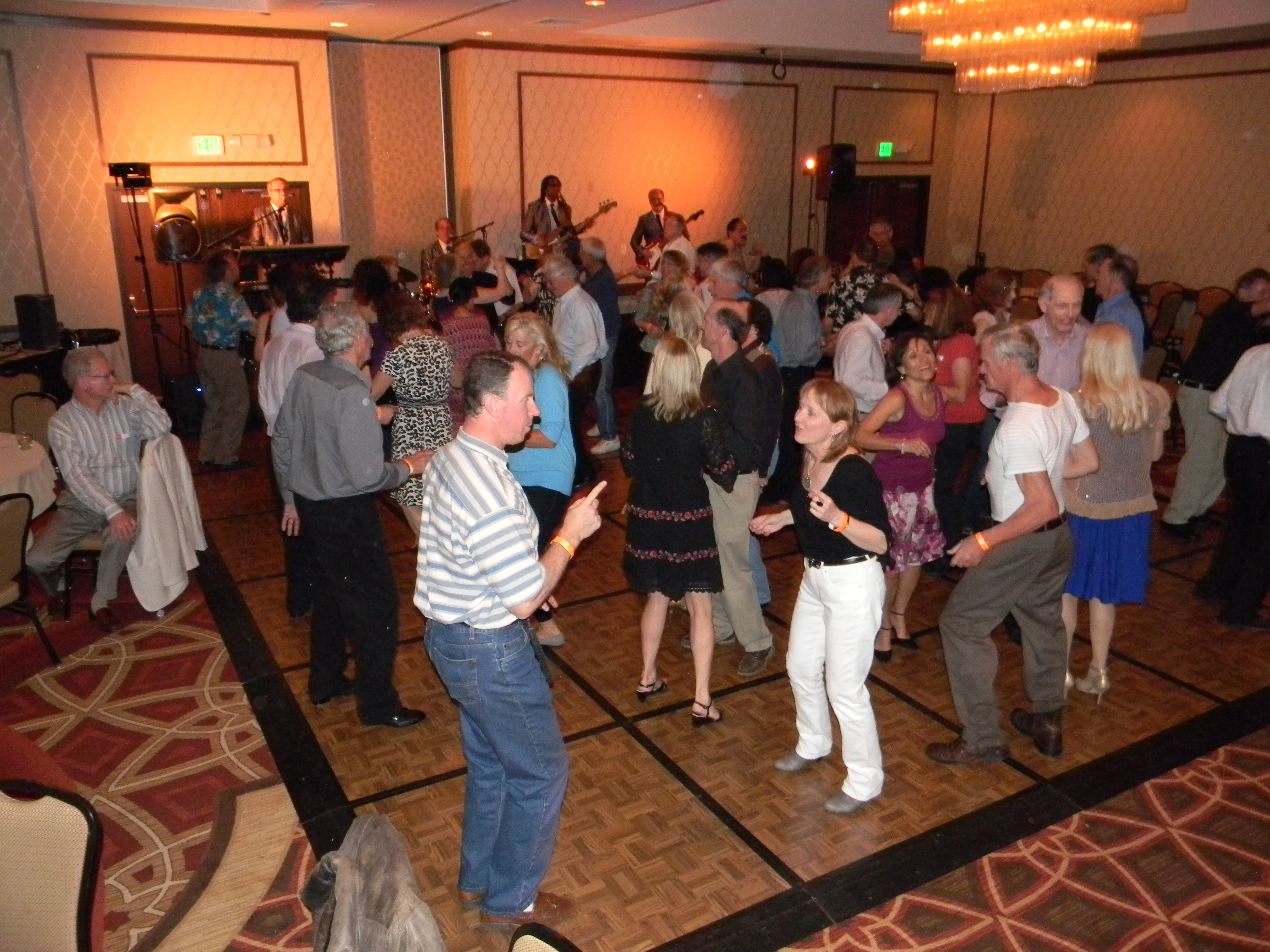 You are invited to our big adult singles dance with the theme "Jersey Boys and Songs of the 60's" being held at the Doubletree Hotel Southeast.
The music will be performed by Tony David & Wildefire with "Jersey Boys" songs by falsetto voice singer Kerry Edwards
In addition to songs from the musical and movie, there will be some current line dances and classic country.
$15 includes your first mixed drink, wine or bottled beer. Lighted parking just outside the south ballroom entrance.
Doors open at 7:30, music starts at 8.
To relive the music and dancing of the 60's, guests are welcome to dress in styles of that time. Prizes awarded for the best attire.
Doubletree Hotel by Hilton is at I-225 and East Iliff.

Wear All-White Dance at Doubletree Hotel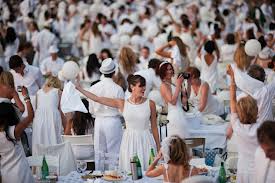 For our "Official First Day of Summer" singles 50+ dance this Saturday, most guests are wearing all-white attire at the Doubletree by Hilton Hotel's Main Ballroom, I-225 & East Iliff in Aurora. 7 to 11 p.m.
(These "Dress All-White" events started in Paris where thousands followed the dress theme and met in famous locations. (See photos to the right and click to enlarge)
(The University of Colorado Cancer Center will do an annual fundraiser known as the "Dinner in White" on August 23 in Downtown Denver at a secret location to be announced that day. Tickets are $50 and guests should bring a picnic. For $100 guests get reserved seating and a dinner. Gather some friends and attend the event, weather permitting. I attend and write about it. John)
Our event is much smaller and indoors with music we know and for singles-only ages 50+.
DJ Bob Barney will play rock and romantic dance music of the 70's to 90's plus the popular mixers, line dances and cowboy cha-chas. (Songs in character will include: Nights in White Satin, White Wedding Day, Whiter Shade of Pale, White Rabbit, White Christmas?? Barry White, too.)
Guests are not required to dress up but no togas or t-shirts.
Dress attractive since prizes will be awarded for Best Men's and Women's outfits plus in the "Slightly Used White Wedding Dress" category.
$15 includes first white wine, bottled beer, or mixed drink. Free lighted parking just outside the ballroom entrance to the hotel. Details at www.boomersocial.net
Denver's Dinner in White
Coming August 23

Tony David & Wildefire Played for Boomer Social's
Armed Forces Day Dance
Doubletree by Hilton Hotel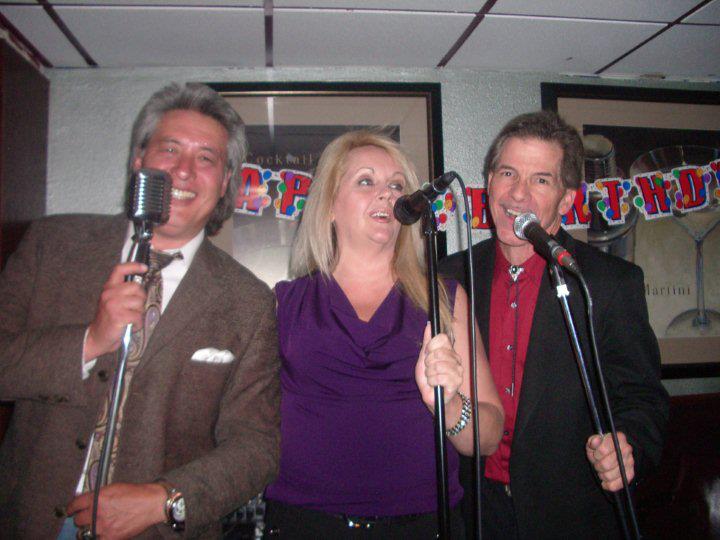 | | |
| --- | --- |
| Tony David & Wildefire at Doubletree Ballroom | |
For Armed Forces Day entertainers Tony David & Wildefire added several patriotic songs to their dance music from 8 to 11 in the big ballroom of the Doubletree by Hilton Hotel in Southeast Aurora. The trio has played for numerous military and veterans' events. Some guests wore military uniform items and insignia while others are dressing in 1940"s fashions.

The Nacho Men Band Dance
Doubletree by Hilton Hotel--Southeast Aurora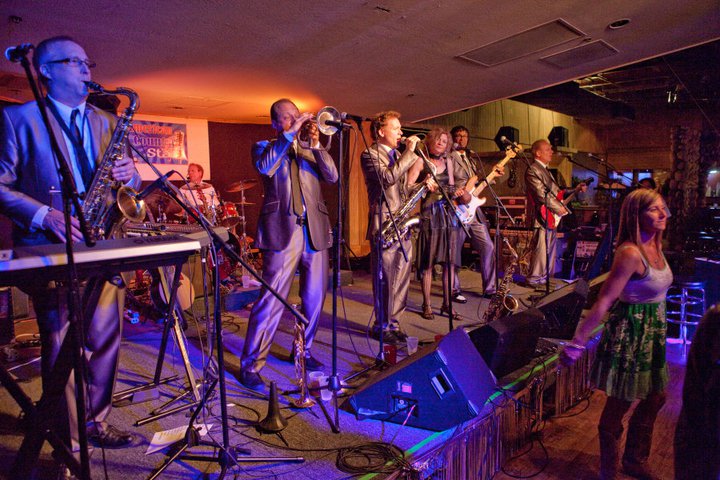 The Nacho Men played for a crowd of 205 at our Valentines Day dance plus again in March and April before going on their busy summer concert schedule.
The famous oldies rock and roll band (minus their costumed stage show) played in the full ballroom of the Doubletree by Hilton Hotel in Southeast Aurora.
---
| Return Home | Weekly Newsletter | Past Dances | Cruiser Bike Rides | Singles Golf & Dine | Singles Cruises | Groups Happy Hour | Stories Photos | Host and Music |